We are fortunate to offer our children an education in a unique location in East Coast area.

The Inno Montessori School was incorporated as a company following the vision of a group of educators who shared a dream of providing a Montessori Preschool education for children.
The school is concurrently started in both Singapore and Australia. Singapore is the primary center supporting Australia schools, which are mainly offering services for 0-3 years old.
We currently have the following Montessori programmes:
Montessori Independent Toddler Community (15 months – 3 year olds)
Children's House (3 – 6 year olds)
Montessori Enrichment for all age groups (15 months – 6 year olds)
All families who are interested in Montessori education are also invited to attend a tour and a one-hour observation of the age group matching your children. You are welcome to attend any of the Montessori Parent Education programmes at our school.
---
How parents talk about Inno Montessori
---
Our classroom environment
IC Classroom

---
Casa Classroom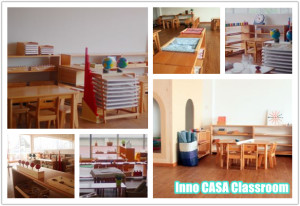 ---
Outdoor Garden